Industrial inline duct fan ventilators, inline tube axial and vane axial blower fans. Sales of large industrial vaneaxial and tubeaxial ventilators, fans and blowers.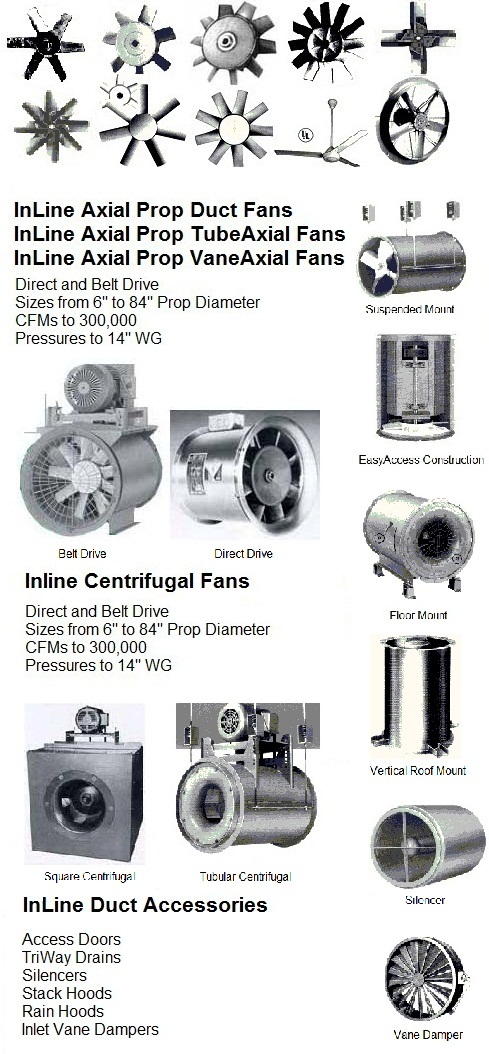 Engineering of through the wall exhaust fans, airflow exhaust ventilators, fume hood exhaust fans, roof / wall supply blowers, paint booth ventilation fans, high pressure air blowers, air pressure blowers, high temperature air blowers, rotary air blowers, air fan-blowers systems, roof blowers, roots blowers, oven / dryer exhaust ventilators, heavy-duty ventilation fans, spray booth exhaust fans, New York blowers, Dayton fans, Chicago blowers, American Coolair ventilators, ACME ventilators, Twin City fans, Aerovent fans, Cincinnati blowers.
Engineering of air moving and industrial ventilation equipment, combustion blowers, material handling and pneumatic conveying fans, inline direct & belt driven ventilators. Distributors of Chicago Blower, American Coolair / ILG NYB TCF fans, wall & roof exhaust and supply power ventilators, panel propeller fans, gas-fired direct and indirect make-up air handling units AHU, air curtains and blow-off air knives and air-knife systems, fan silencers, corrosion-resistant ventilators, positive pressure ventilators, mobile macoolers, reversible duct ventilators, fan dampers and louvers.
Canada Blower is a supplier of heavy-duty industrial process & OEM fans and blowers.
Canada Blower Radial Fans are ruggedly constructed and cover a wide range of performance requiremens for such applications as:
* dust collection
* pneumatic conveying
* moisture blow-off
* ovens and dryers exhaust
* combustion air
* heat recovery
* incinerators
The design parameters and standard features of Canada Blower Radial Fans are:
- 14" through 85" radial wheel diameters provide capacities to 100,000 CFM and 50" SP
- airstream temperatures to 1000 F with optional high-temp alloy impeller
- heavy-gauge welded steel construction provide structural strength and durability
- for corrosive airstream stainless steel construction and various shaft seals are offered
- choice of two wheels: material handling paddle LS wheel and high-efficiency
- air-handling DH wheel
- belt driven and low-cost direct driven arrangements are available.