Industrial propeller wall fans and power ventilators sales for air exhaust and supply building ventilation. Supply of heavy duty axial wall and roof ventilators and fans.



Propeller fans are used primarily in industrial facilities to supply filtered air to spaces housing personnel and electrical and/or electronic equipment. Available in 'draw-thru', or 'blow-thru' configuartions, with removable filter housing cover and easy-clean filters.

Canada Blower axial flow panel fans are designed for low pressure building ventilation, room ventilation, industrial ventilation, commercial ventilation and industrial process application. Typical applications include heat, smoke, and fume removal; process ventilation and process air handling; proces drying with ambient or preheated air; comfort process cooling and general ventilation of buildngs. Available in direct drive arrangement 4 and corresponding belt drive arrangement 9. Sizes from 6 thru 96. Capacities: to 350,000 CFM. Static pressure to 2.5 inches water gauge.

Spark Resistant X-proof construction: wall fan for non-sparking x-proof applications is supplied in AMCA A (all aluminum or monel airsteram), AMCA B (aluminum wheel, or monel wheel), or AMCA C (buffer type) spark resistant construction. For AMCA A applications wheel is made of non-ferous material with monel shaft and special x-proof motor.

High temperature construction: wall fan is avaialble in high temeparture construction with high temperature motor and steel prop, or stainless steel prop.

Corrosion resistant construction and chemical duty construction: for corrosive environment wall fans are avaialble in 304 SS, 316 SS, or 316 L stainless steel construction. For chemical process applications wall fans are available in fiber reinforced plastic (FRP) construction, or in polypropylene construction, or in plastic.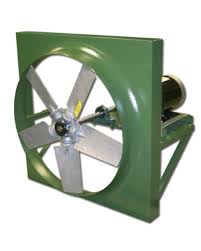 Roof and wall exhaust and supply power ventilation fans for industrial and commercial HVAC ventilators.