I
Sales of industrial turbo blowers, high pressure regenerative side channel blowers and positive displacement PD high pressure blowers. Sales of OEM blowers and high pressure radial fans.

Canada Blower High Pressure Air Fans are at work in as many diverse applications as they are in locations throughout the world. Clean air applications include combustion air, air drying primary air ejectors, and product cooling. This fan can handle pneumatic conveying systems. The RBO fan is ideal for corrosive exhaust, air pollution systems and chemical processing. By adding ceramic tile or chromium carbide wheel and housing liners, Canada Blower's ORB fans easily handle abrasive materials. In particular, fans with ceramic tile liners are extremely effective in pulverized coal applications, handling up to 250 grains per cubic feet of air. For corrosive gases, a stainless steel wheel and housing is available, or a lower cost rubber-lined, mild steel housing will often fulfill the requirements.
Canada Blower industrial pressure blowers and high pressure radial fans are supplied in cast aluminum, cast iron, or all-welded construction to prevent flexing at high pressure. Available in direct drive arrangements 4 / 4V / 4H / 7 / 8 and belt drive arrangements 1/9S/9T/9H. Capacities: to 10,000 CFM. Single stage pressure blowers develop up to 4 psi static pressure. Two stage pressure blowers and multistage pressure blowers are for higher pressure.
An extremely wide performance range is provided by 70 wheel / housing combinations. The Design Pressure Blower is available in four arrangements and eight discharge positions to suit most every application. In addition to direct drive, the Design Pressure Blower is also available in belt drive.
Applications for High Pressure Blowers include:
Canada Blower single stage pressure blower is designed for combustion, air, fluid bed aeration, cooling, drying and many process system applications. It is also commonly used in pneumatic conveying systems.
Operating Range of Pressure Blowers can be summarized as:
Maximum CFM: 18,000
Maximum Static Pressure: 91" wg
Maximum Temperature: 200°
Fan Sizes:1 4" to 38"
DESIGN CAST ALUMINUM PRESSURE BLOWERS
Canada Blower cast aluminum pressure blowers utilize high-strength alloys to create strong, corrosion-free housings and wheels ideal for adverse industrial environments. Aluminum also stands up to sub-zero ambients without material deterioration. Since aluminum is non-magnetic and non-toxic, Canada Blower's pressure blowers are recommended for both electronic and food related applications. The non-sparking properties qualify Canada Blower's pressure blowers for AMCA Type B spark resistant rating.
Operating Range of Aluminum Pressure Blowers is:
Maximum CFM: 3,000
Maximum Static Pressure: 25" wg
Maximum Temperature: 200°
Fan Sizes: 8" to 18-1/2"
RBO HIGH PRESSURE RADIAL FANS
To meet specific applications, Canada Blower RBO radial fans can be built with stainless steel or alloy construction. Split housings facilitate wheel removal without disturbing connecting ductwork. Integral inlet boxes, pre-spin inlet dampers and opposed-blade outlet dampers all control air flow. Belt guards and shaft coolers are also common options, in addition to the various housing and wheel liners. Canada Blower engineers are eager to design and build the pressure fan that meets your exact requirements.
Application for Canada Blower RBO High Pressure Radial Fans are:
Operating Range for ORB Radial Blowers:
Maximum CFM: 440,000
Maximum Static Pressure: 108" wg
Maximum Temperature: 1000°
Fan Sizes: 20" to 100"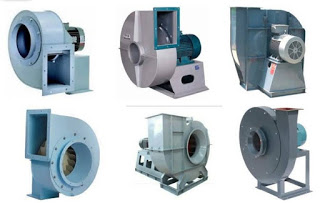 Sale of TCF NYB fans / blowers, American Coolair ventilators, Aerovent ventilators / fans, side channel blowers, regenerative blowers, Canarm ventilators, ACME fans, Leader Delhi fans, ILG ventilators, Plastec propylene blowers, New York Ventilators, confined space fans and ventilators.