Industrial mixed flow high pressure inline fan blowers. Sales of tube axial and vane axial heavy duty industrial process blowers, fans and OEM ventilators.

MIX FLOW FANS
An economical in-line fan design - Canada Blower Mixed-Flow Fans.
Canada Blower inline fan design develops static pressure up to 6" WG - 10" WG, which is a range between true axial (vaneaxial) fan and high-pressure in-line centrifugal fans. Canada Blower ventilator wheel resembles both axial and centrifugal fan impeller - "mix" of them. It has an axial design component responsible for high air volume, and a centrifual component for high pressure.
Canada Blower Mixed Fan sizes are similar to Axial and Tubular-Centrifugal fans, in both belt drive and direct drive fan desings for air volumes up to 100,000 CFM.
All fans are available in spark-resistant construction and with explosion-proof motors.
Available Canada Blower ventilator accessories include features typical for inline fans: inlet & outlet flanges, dampers and guards, shaft seal, high temperature construction, drive guards, various mounting fan arrangements, etc...
Mixed flow blowers combine characteristics of both axial and centrifugal fans, and in the Canada Blower design the impeller resembles a fixed pitch axial fan. Canada Blower has two ranges of mixed flow fan: one heavy duty, ideally suited for handling dust-laden gases, and a compact range that gives higher pressure rises than can be obtained from similar sized axial fans.
Canada Blower compact mixed flow fan is a fully ducted, in-line machine that has a non-overloading power characteristic. It is capable of operating throughout its pressure / volume curve without stalling, even at zero flow. This fan is ideally suited to applications where space is limited and, for example, is commonly used for ventilation on offshore oil platforms. Its robust design maximises reliability and, with anti-spark features, it is suitable in zone 1 hazardous areas. Belt and motor drive options are available. The range can produce flows up to 80m3/s at pressures up to 3 kPa.
Canada Blower heavy-duty mix-flow fans are extremely robust, with plate blades that are ideal for handling dust-laden gases at elevated temperatures. Though a mixed flow fan is not as efficient as other types and the operating range is more limited, fan performance is less degraded by erosion or corrosion. Should repairs be needed the blades are easily welded. Heavy duty mixed flow fans are available with flows from 200 to 1000 m3/s and pressure rises up to 8 kPa.
For applications ranging from the latest high-speed locomotives to industrial cleaning vehicles, Canada Blower can design a fan to satisfy OEM cooling, ventilation and other air movement needs. Through concept engineering, prototype and production, we provide a complete service for OEM air movement needs. Canada Blower OEM experience spans a wide range of applications from custom-designed, heavy-duty fans for use in locomotives and off-highway vehicles to standardised, light duty commercial air handling fans.
OEM axial fans are available for for traction motor cooling, inverter cabinet cooling, dynamic braking grid cooling, inertial filter exhaust, alternator cooling, generator cooling, radiator cooling and cab ventilation. Canada Blower have low-maintenance, high-reliability designs for applications where shock and vibration are problematic. Corrosion-resistant coatings and low noise compact designs are avilable too.
Canada Blower have quality assurance and performance testing to ensure your OEM fan will perform in the toughest working environments. Finite element analysis (FEA), vibration and shock testing, accelerated life cycle testing and sound testing can be provided too. Whatever are tough OEM requirements, Canada Blower has the experience and expertise to meet those needs.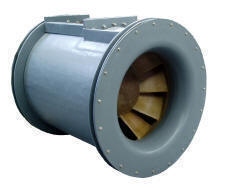 Manufacturers of backward curved fans, heat blowers, air fans and air blowers, positive displacement PD blowers, commercial air blowers, drying fans, dry air blowers, heavy duty air ventilators, compressed air blowers, wall / roof mounted fans, forward curved fans, radial blowers, fan blades, plug fans, high pressure fans, fume extractor fans, suction vacuum blower, warehouse fans / ventilators, large industrial fans, large industrial ventilators.