Industrial FRP fiberglass blowers, fans and ventilators engineering. Sales of OEM centrifugal blowers and axial fan wheels, high pressure blower impeller blades, SST stainless steel and FRP ventialtors.

Canada Blower fiberglass fans are primarily used for exhausting gases, fumes, and vapors from chemical processes. Straight-through airflow combines the compact advantage of an axial fan with the performance characteristics of a centrifugal fan.


The standard FRP resin used for the fiberglass fan is resistant to a large variety of alkalis and other chemical agents. When a corrosion resistant fan is required to withstand chemicals which attack glass or polyester resin, special plastic and reinforcing material can be supplied.
FIBERGLASS/CORROSION RESISTANT FANS

Many processing plants including water and waste water treatment plants require rugged, corrosion resistant equipment designed for many years of reliable use. Fans & blowers are subjected to both harsh chemicals and continuous duty applications, including odor control, air strippers, sludge drying, aeration and HVAC for building comfort. We provide Fiberglass Reinforced Plastic (FRP) fans that are resistant to many corrosive agents including hydrogen sulfide and sulfur dioxide, commonly found in waste water plants.

Canada Blower Typical Fans Applications:

– Odor Control
– Scrubber Fans
– Air Stripper Fans
– General Ventilation
When it comes to Fiber Reinforced Plastic fans or FRP blowers, there are several key benefits. Because of that, these fans are ideal for both industrial and commercial applications.
Aerodynamic Impellers – For one thing, FRP blowers have impellers that are aerodynamically designed. Therefore, the fans produce a higher efficiency that makes them perfect for a broader range of applications.
Weight Reduction – Another benefit associated with FRP blowers is that when compared to other types of blowers, there is a noted reduction in weight. Not only does this enhance durability, it actually helps extend the life of the mechanical drive systems, including motors, bearings, gear boxes, and more.
Less Power Consumption – To operate FRP blowers, less power consumption is required. Ultimately, this saves on energy, especially when making a comparison to other metallic-type blowers.
Fabrication – Manufacturers of Fiber Reinforced Plastic blowers use composite fabrication procedures, such as resin transfer molding, standard molding, and compression. As a result, the blowers boast a consistent quality and the dimensions of the impellers are uniform.
Noise Pollution – One advantage of FRP blowers that people appreciate is the reduced amount of mechanical noise and flow sound. As imagined, this makes the working environment more enjoyable as well as safer from a hearing perspective.
Durability and Lifespan – Due to their enhanced mechanical strength, FRP blowers are more durable, and they have a longer lifespan.
Corrosion Resistance – Because of the materials used in manufacturing fiberglass reinforced plastic blowers, they are more resistant to chemicalerosion and corrosion.
Fire Safety – Fiberglass reinforced plastic blowers produce vibration-free operation, and they are fire retardant.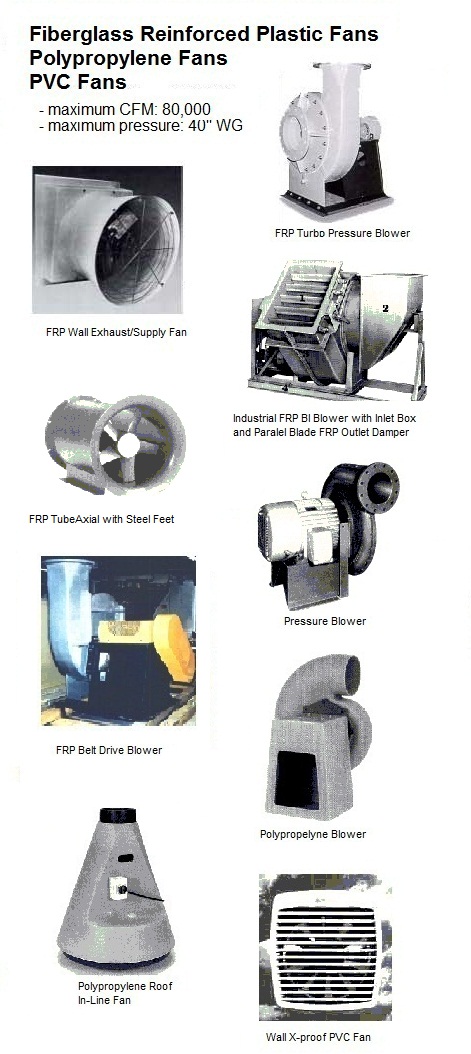 http://chicagoblowercanada.com/airfoilblower.html
http://chicagoblowercanada.com/axialfan.html
http://chicagoblowercanada.com/backwardcurvedblower.html
http://chicagoblowercanada.com/biblower.html
http://chicagoblowercanada.com/centrifugalfan.html
http://chicagoblowercanada.com/coils.html
http://chicagoblowercanada.com/ductfan.html
http://chicagoblowercanada.com/ductfans.html
http://chicagoblowercanada.com/fanaccessories.html
http://chicagoblowercanada.com/forwardcurvedfans.html
http://chicagoblowercanada.com/frpfans.html
http://chicagoblowercanada.com/hoodedfans.html
http://chicagoblowercanada.com/index.html
http://chicagoblowercanada.com/MakeUpAirFans.html
http://chicagoblowercanada.com/mixflowfans.html
http://chicagoblowercanada.com/oemfans.html
http://chicagoblowercanada.com/pressureblower.html
http://chicagoblowercanada.com/propellerfans.html
http://chicagoblowercanada.com/radialblower.html"
http://chicagoblowercanada.com/rfq.html
http://chicagoblowercanada.com/roofcentrifugalfans.html
http://chicagoblowercanada.com/rooffan.html
http://chicagoblowercanada.com/rooffans.html
http://chicagoblowercanada.com/tubeaxial.html
http://chicagoblowercanada.com/tubeaxialfan.html
http://chicagoblowercanada.com/upblastfans.html
http://chicagoblowercanada.com/vaneaxial.html
http://chicagoblowercanada.com/wallfans.html

Replacement Twin City Fans / TCF blowers and Aerovent ventilators, Chicago Blower fans, industrial pedestal ventilators, in line fans, confined space fans, in-line exhaust blowers, radial blade fans, paddle wheel ventilators, hvac blowers, high temperature pressure blowers, fiberglass ventilators, stainless steel fan blowers, material handling radial blowers, blowoff fans, direct drive blowers, belt drive fans, air vent fans. Supplier of radial blowers, vaneaxial & tubeaxial ventilators, explosion proof spark-resistant fans, fiberglass FRP, PVC and Propylene blowers, oven circulating super high temperature fans. Suppliers of industrial process fans and blowers.

Centrifugal and axial air handling fans, blowers, ventilators; belt and direct drive fans; single-width and double-width blowers; Airfoil fans; Pressure Blowers.
Sales of New York Blower fans and blowers: high pressure fans, high temperature blowers, general ventilation utility fans, centrifugal and axial fans anv ventilators. Air fans, blowers and ventilators for industrial plants from Buffalo, New York. Sales of industrial axial power roof and wall ventilators, exhaust and supply centrifugal spun aluminum fans and blowers.


scroll centrifugal and axial Buffalo Blower air handling fans and ventilators; belt and direct driven Buffalo fan ventilators; single-width and double-width blower fans; radial blowers; induce draft and force draft Buffalo Blower fans; high pressure and high temperature pressure blowers.
Type AF Power Roof Ventilators utilize vaneaxial and tubeaxial fans to which a separate damper head and curb sheet are attached. Their construction incorporates flanged wind band, or shroud with rain gutter, supplied with integrated gravity automatic dampers pivoted in bushing bearings, dampers stops and flange, tube-axial, or vane-axial fan stack, available in direct drive - arrangement 4, or belt drive with belt tension adjustment arrangement 9 configuartion, motor cover, or belt gurad, gussets, heavy duty fan wheel, available with a variety of motors, corrosion an dmoisture resistant finishes.

Canadian Blower PRV Power Roof ventilators provide clear evidence of the continued leadership of Canadian Blower in the engineering development and manufacture of ventilating fan packages for industrial and commercial ventilation. Canadian Blower Company axial roof fans cover sizes ranging from 15" to 84" wheel diameters with capacities from 2000 CFM to 200,000 CFM.

PRV Power Roof Ventilators is a low-silhouette, factory assembled package unit constructed to withstand hurricane force winds. It construction incorporates galvanized steel wind band, rain gutter, automatic dampers (gravity action) with damper bearings and damper stops, optional stack for true vertical discharge, gussets to fasten the wind band to the stack, streanlined die formed Venturi closely shrouding fan prop/wheel, heavy duty prop supplied in variety of designs, roof curb sheet with flanged edges, totally enclosed air over high efficiency motors, special coatings for corrosion and moisture resistance. This type of power roof ventilator is available in Tilt-Up construction, which provides access to drives and motors direct from the roof.

FRP Construction - Fiber Reinforced Polyester corrosion resistant construction is available for all up-blast power roof ventilators along with protective coatings for corrosive exhaust fumes or atmosphere including synthetic vinyl plastic and a cathalytic epoxy coatings.

Corrosion resistant construction and chemical duty construction: for corrosive environment wall fans are avaialble in 304 SS, 316 SS, or 316 L stainless steel construction.

Emergency Duty Purge Up-Blast Ventilators incorporate elements of sealed and high-temp. consturuction for emergency fume and smoke exhaust.


The versatile Canada Blower fiberglass reinforced plastic (FRP) fan is offered in all three fan impeller designs and in sizes to fit all commonly used duct diameters. While fan arrangement 9 is considered standard, arrangements 1, 4 and 8 are available on most series and sizes to better suit the specific installation. In addition to a multitude of standard fan models, custom Canada Blower fans can be fabricated to meet unique requirements, including alternate plastic resin formulations and exotic metal high-pressure blower impellers.

From steel mills to chemical processing to emissions control, today's industrial air moving and exhausting systems must withstand a growing variety of severe corrosives. Canada Blower's fiberglass reinforced plastic (FRP) fans are built to handle these harsh fumes, vapors and gases. Canada Blower fiberglass polyester composition is also impervious to extreme outside environments. Exterior steel components are protected by a special vinyl phenolic coating.